In case, anyone was doubting my word ;)

Those in the know are forecasting snow this coming Wednesday!
When I first heard it a few days ago, I just could not fathom that the weather would be able to change that quickly. Spring lasted a fortnight at most, it seems autumn will not last much longer. There is a definite chill in the air, and whether or not we shall see actual snow as early as Wednesday time will tell, but I should be less surprised after witnessing the weather today.
This was at just after 1pm
Dark and cloudy is one thing, but it was absolutely freezing too. Near enough. Certainly near enough for it to be time to break out the winter coats (luckily they aren't packed too far away!).
There were visible breaks in the clouds however, bursts of sun that peaked through and lit up the land here and there along the way.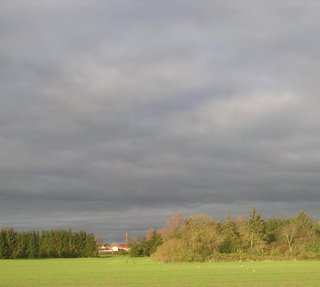 As windy as it was, we were a little apprehensive about crossing Storebæltsbroen, the bridge that links two of the main islands of Denmark, thankfully the wind though very strong was head-on and so I did not have to shut my eyes (the driver, my brother, neither - phew!), and I was able to take some photographs.
That was the drive home, not quite as exciting as the reason for the actual trip, which was first and foremost to attend a Silver Wedding Anniversary. This occasion is celebrated in style in this country and has a host of traditions that must be followed.
But before any of that got underway, I was able to spend some quality time with my two very special guys (twins).
Very early on Friday morning, in the pitch black, jumping over cowpats and the like, about 100 of us crept up to my aunt and uncles home and awoke them with singing - well, that's what is supposed to happen, but since it always does on such occasions, not suprisingly the happy couple were dressed and waiting. During the night, the doorway had been decorated with pine branches, silver bows, fairylights and flowers and after we had stood in the pouring rain for a respectable amount of time serenading them as they stood beautifully framed, we allowed ourselves to be invited (all 100+ of us) in for a traditional Danish breakfast.
In the evening, it was a proper Danish party with a capitol P, which means in short a lorra lorra eating and drinking (was enjoying both, not realizing precisely how much until everyone else shouted Hurray and I followed suit solo about 10 seconds later), speeches galore and songs-a-plenty. Songs that family and friends write themselves and present, and which we all sing.
After 5-6 hours of that, the dancing commences with the couple taking the floor first to the special Silver Wedding waltz
(with the rest of us slowly moving closer and closer, which is what can be seen here).
The night was danced away by all (some more than others - let's just say, it's possible to both twist, river dance and 'pulp fiction' amongst others to traditional Danish songs) and everyone had such a wonderful time, especially my aunt and uncle, who I know will cherish the memories of Friday along with the other very many happy ones that they have collected over the last 25 years.